Description
Installation
Tech Specs
Part Numbers
Downloads
Description
The Wej-It original Wedge Anchors are time tested with proven reliabilty and has been an industry standard for over 60 years.  These anchors come fully assembled and ready for you to use, the bolt size is hole size makes for an easy installation and allows for precision placement for equipment through a pre drilled hole.
Time-tested, proven reliability – An industry standard for over 60 years
Fully assembled and ready to use
Unparalleled job-site convenience – No fixture-moving required
Bolt Size is Hole Size® eases installation – Allows precision placement of equipment through pre-drilled holes
Exclusive "positive wedge connections" – Minimizes wedge loosening due to vibratory loads
Specifications, Listings, and Approval
Diameters: 1/4″ – 1″
Material: Carbon steel
Finish:  Zinc plating ASTM B633, Type Ill, SC1
Federal Specifications:
QQZ-325C, Type II, Class 3 (clear chromate added)
 GSA FFS-325, Group II, Type 4, Class 1
Code Compliance:
Formerly ICC-ES Legacy Report #1821
1997 Uniform Building Code (UBC)
2000 International Building Code (IBC) , 2000 International Residents Code
Data Test in accordance with the ICC-ES criteria for Expansion Anchors in Concrete and Masonry Elements
(ACOI) dated April 2002. Available upon request.
State DOT: Please call Customer Service for specific approval information by state
Drill the hole perpendicular to the work surface with a solid carbide bit that meets ANSI B212.5 specifications. The drill bit diameter will be the same as the anchor diameter that you are installing. To assure full holding power, do not ream the hole or allow the drill to wobble.
Drill the hole one diameter deeper than the intended embedment of the anchor, but not closer than two diameters to the bottom (opposite) surface of the concrete.
Clean the hole using compressed air and a nylon brush. A clean hole is necessary for proper performance.
Insert anchor into hole until washer rests solidly against fixture.
Tighten 1-1/2 to 3 turns past hand tight position but to a maximum torque as listed in the table below.
NOTE: Always wear safety glasses. Follow drill manufacturer's instructions. Use only solid carbide-tipped drill bits meeting ANSI B212.15 diameter standards.
Installation Data Tables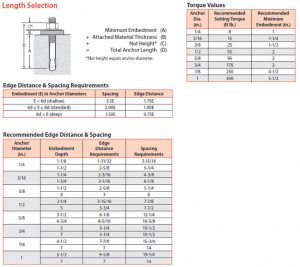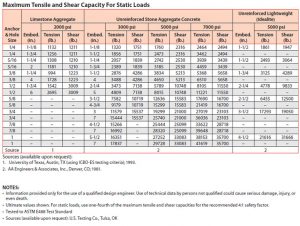 Information provided only for the use of a qualified design engineer. Use of technical data by persons not qualified could cause serious damage, injury or even death.
Ultimate values shown. For static loads, use one-fourth of the maximum tensile and shear capacities for the recommended 4:1 safety factor.
Catalog No.

Anchor Size
(in.)

Min. Embed.
(in.)

Thread Length
(in.)

Quantity
Box/Carton
| | | | | |
| --- | --- | --- | --- | --- |
| 1413 | 1/4 x 1-3/4 | 1 | 1/2 | 100/600 |
| 1423 | 1/4 x 2-3/4 | 1 | 1/2 | 100/600 |
| 1430 | 1/4 x 3 | 1 | 1/2 | 100/600 |
| 5620 | 5/16 x 2 | 1-1/4 | 5/8 | 100/600 |
| 5630 | 5/16 x 3 | 1-1/4 | 5/8 | 100/600 |
| 3820 | 3/8 x 2 | 1-1/2 | 3/4 | 100/600 |
| 3823 | 3/8 x 2-3/4 | 1-1/2 | 3/4 | 100/600 |
| 3832 | 3/8 x 3-1/2 | 1-1/2 | 3/4 | 50/300 |
| 3850 | 3/8 x 5 | 1-1/2 | 3/4 | 50/300 |
| 3860 | 3/8 x 6 | 1-1/2 | 3/4 | 50/300 |
| 1223 | 1/2 x 2-3/4 | 2 | 1 | 50/300 |
| 1232 | 1/2 x 3-1/2 | 2 | 1 | 50/300 |
| 1250 | 1/2 x 5 | 2 | 1 | 25/150 |
| 1260 | 1/2 x 6 | 2 | 1 | 25/150 |
| 1270 | 1/2 x 7 | 2 | 1 | 25/150 |
| 5832 | 5/8 x 3-1/2 | 3 | 1-1/4 | 25/150 |
| 5842 | 5/8 x 4-1/2 | 3 | 1-1/4 | 25/150 |
| 5850 | 5/8 x 5 | 3 | 1-1/4 | 20/120 |
| 5860 | 5/8 x 6 | 3 | 1-1/4 | 15/90 |
| 5870 | 5/8 x 7 | 3 | 1-1/4 | 15/90 |
| 3440 | 3/4 x 4 | 3 | 1-1/2 | 18/108 |
| 3450 | 3/4 x 5 | 3 | 1-1/2 | 12/72 |
| 3460 | 3/4 x 6 | 3 | 1-1/2 | 12/72 |
| 3470 | 3/4 x 7 | 3 | 1-1/2 | 10/60 |
| 3482 | 3/4 x 8-1/2 | 3 | 1-1/2 | 10/30 |
| 3410 | 3/4 x 10 | 3 | 1-1/2 | 10/30 |
| 7880 | 7/8 x 8 | 4-1/2 | 1-3/4 | 10/30 |
| 7810 | 7/8 x 10 | 4-1/2 | 1-3/4 | 10/30 |
| 7812 | 7/8 x 12 | 4-1/2 | 1-3/4 | 5/15 |
| 1080 | 1 x 8 | 5-1/2 | 2 | 10/30 |
| 1010 | 1 x 10 | 5-1/2 | 2 | 5/15 |
| 1012 | 1 x 12 | 5-1/2 | 2 | 5/15 |